What is FreeLogoDesign
FreeLogoDesign is a logo maker that anyone can use to create a logo easily in just a few clicks. Since its founding, thousands of users around the world have used our tool to create their company logo, brand guide, business card, email signature, etc. FreeLogoDesign has everything you need to easily design your branding.
Among our options, we offer the possibility to create and upload a logo for free.
Why use FreeLogoDesign to create your free logo
It is true that there are many online tools available to help you create a logo. So here are three reasons why you should take a look and try FreeLogoDesign to create your free logo.
A large amount of logo templates
One of the great advantages of FreeLogoDesign is its large amount of logo templates. Whether you want to open a restaurant, start a business or form a sports team, we have several thousand logos created especially for you. FreeLogoDesign also has a team of graphic designers who work hard to create logos that align with the latest trends. Simply click on our Logo Ideas page or search for templates that meet your needs.
Also, the best part is that all our logo templates are free! That's right, whether you decide to create a free logo or not, everyone has access to our large catalog of logos.
A complete easy-to-use logo maker
For experts, Illustrator and Photoshop remain must-haves for logo design. However, these tools may seem complicated to use. With FreeLogoDesign, everything is easy. After choosing a template that you like, just customize it. You can modify colors, text, font, add a shape, slogan or icon, duplicate, move and delete a component, etc. To do that, you just have to click on the part of your logo you want to edit to see the editing options available on the right.
Again, all of our creative features are free. This gives you access to everything you need to create a professional-looking logo.
The ability to save your creations
Do you need more time to work on your logo? Do you want to try another template or take the time to show your creation to others before downloading it? That's easy, you just have to create an account to save all your logos in one place. Even though you will receive a free version of your logo by email, you can still download your creations again by logging into your account.
When you access your FreeLogoDesign account, you can edit, share, download, and duplicate a free logo.
What will my free logo made via FreeLogoDesign look like
FreeLogoDesign has different offers available, including that of creating and uploading a free logo without time limits or watermarks. If you've tried other logo makers, you may have seen that the design was free, but not the download. Don't worry, FreeLogoDesign allows you to download a logo at no cost.
Your free logo will be in low resolution and the dimensions will be 200 by 200 pixels. It should also be noted that the format will be PNG and the background will be colored. If you haven't chosen a color for the background of your logo, it will automatically be white.
Your free logo can be used in an email signature, on your website or social media. To have a version of your logo with a transparent background, you will need to choose one of our premium options.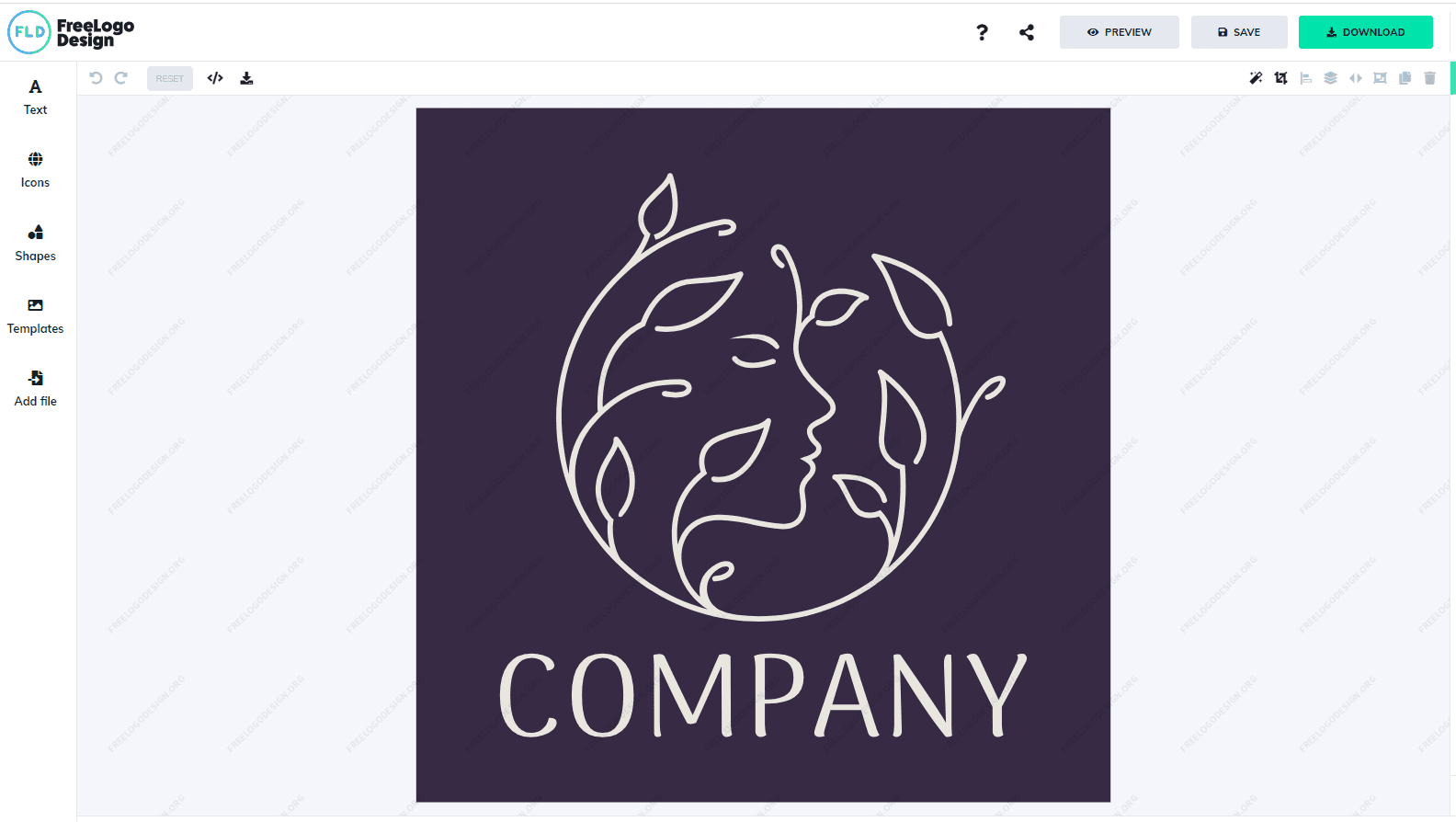 How to create my free logo on FreeLogoDesign
Now that you know a little more about FreeLogoDesign, here are the steps to create a free logo with our logo maker. If this is your first creation or you do not know where to start, do not hesitate to consult our blog. Here, you will discover different articles on the latest trends or tips to make your logo.
1-Choose a template
As we mentioned earlier, FreeLogoDesign has a very large number of logo templates that can be used. Take the time to look at our catalog to find a template that inspires you and meets your needs.
2-Customize the template
Once in the logo maker, it's time to customize the chosen template. Click an item to edit it. You can change the text, colors, font, etc. Make it unique and representative. Here's a little tip: in order to maximize the dimensions offered with your free logo, consider using all the space available in the logo maker.
3-Download your free logo
When you're satisfied, click the Download button at the top right of the logo maker. This is where you will have access to all our offers, including our free offer. Simply click the Download button to get your logo free of charge.

In conclusion, as the name suggests, FreeLogoDesign is one of the best free logo makers. Our tool allows you to have access to all our logo templates and creative features without the need to pay anything. Remember, it's not the price that counts, but the result. Speaking of which, remember that Nike's iconic logo only cost $35.00!