Don't put too many items
In our opinion, the most common mistake regarding email signatures is adding too many items. An email signature must remain relatively simple. We must only see the most important contact information for you. In some cases, it may be appropriate to add your address. For example, if you have a consulting office or a store. However, if it is not necessary, you may simply not need to add it. Is it also necessary to add your company's slogan? Ask yourself how your customers communicate with you. Then, add that information to your email signature.
Not using your branding colors
As we have mentioned in several articles, it is important to use the elements of your brand image everywhere, including on your email signature. In addition to increasing your credibility, it brings a professional touch to your emails. Colors are most certainly one of the most important aspects of your company's brand image. So, when creating your email signature, consider using the main colors of your brand for consistency. In addition, we also recommend you keep it simple and not use many different shades.
Don't mix fonts
In the same vein, it may be useful to choose the fonts of your brand image when you create your email signature. If not, consider using a similar font. For example, if your brand uses a sans serif font, keep this type of font in your email signature to have the same style. Then, we strongly advise you not use several fonts in your email signature. This can quickly give an amateur or chaotic look. Again, the important thing here is to keep it simple.
Use badges instead of links for your social media
One way to make your email signature more streamlined is to remove as many links as possible and replace them with badges. This is perfect if you want to mention your social media pages in your email signature. Instead of adding a link to each of your pages, simply add a badge that will get people to the right place. Again, you don't need to indicate that you are present on all platforms. Take a second to ask yourself which social media platforms are most relevant to your target audience.
Verify that all links work
You may decide to add links to your email signature. This could be a link to make an appointment with you or to go to your website. This is quite common. However, we strongly recommend that you test these links when you add them to your email signature. It would be a shame if a typo prevented people from accessing your links. Do the same for your social media badges and make sure they lead to the right pages.
Verify that all information is accurate
Finally, the last point we want to address regarding frequent errors of email signatures is simply not correcting errors. This can be just a simple typo when you entered your phone number or email address. Therefore, take the time to check all the details in your email signature before adding them to your emails. As well, if you change positions or address, remember to update the contact information in your signature as soon as possible to avoid any problems.
How to create an email signature with FreeLogoDesign
As we mentioned above, it is now possible to create an email signature, that includes your logo on FreeLogoDesign. This add-on allows you to access the email signature editor designed by our team. Here's how.
First, you need to create your logo with our logo maker. Then, you can get the add-on by choosing our premium plan or by selecting it as an option when you get our high-resolution plan. When done, click on your logo and choose the Signature mail option located at the top right to access our logo editor. Then fill in the fields relevant to you: name, title, company, address, website, phone number, etc. If you want to add badges for your social media, click on the Social tab, then enter the links of your pages.
We have different styles for your email signature. You can discover the options by clicking on the Templates tab. Our team has created different email signature templates that will highlight your logo. If you want to customize certain parts, you can click on the Style tab. Here you can change the colors or icon types for social media badges. When you are satisfied with the result, simply copy the signature, and add it to your email account. This option is often found in the settings.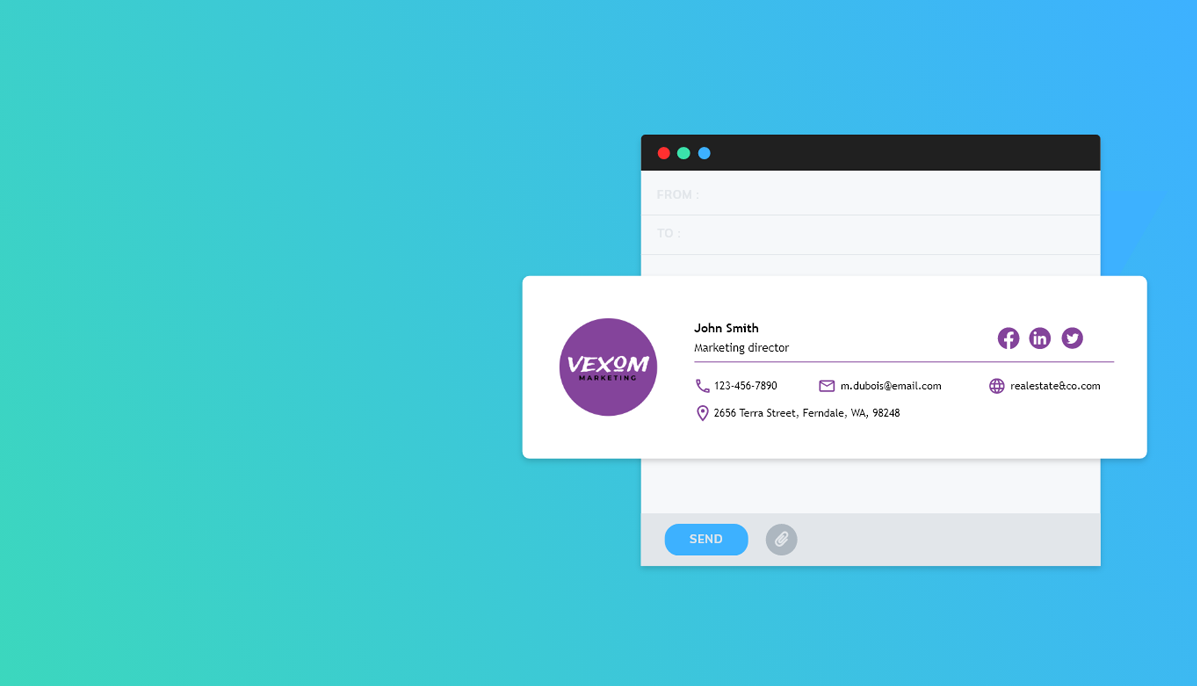 In conclusion, an email signature is a simple tool that can easily give a little professional touch to your emails. The key is to keep it simple and add only the relevant information. No one is immune to errors. That's why we advise you discover our article on the most common mistakes when creating logos. Good luck!