The importance of your brand image
Branding is the visual heart of a company. There is not only a logo, but colors, fonts and values. When you have these elements in hand, you have the duty to use them everywhere, whether on the web or promotional items. This forms a kind of visual consistency around a company's brand. Remember that your logo must represent you well. This is an emblem that represents your company and its values and not those of a competitor. A logo can certainly help you stand out and give a professional look to your business. That's why the logo is often the most important part of your brand image.
For example, take the Starbucks logo. You walk past the café and you see a poster of Starbucks. You enter and you find their logo on all products and packaging. Once your order is placed, you will also see their logo on your receipt. Your brand image forms a whole and you have to think about using it on different mediums to increase the strength of the brand. Even on your invoices!
Increase your credibility
In addition, if you are an entrepreneur and you send invoices regularly, everything must have a professional look. There are several things to consider when creating an invoice. You must put your contact details and a description of what has been sold. We should also find your logo on your invoices, as this will increase your credibility. The whole thing will look more official if the elements of your brand image are there.
What would happen if you sent an incomplete invoice? This would probably damage your credibility as an entrepreneur. It's often the small details that make all the difference. Take a look at the latest invoices you received. You will soon notice that the vast majority of these have the company logo displayed in the header.
Consider creating a flexible logo
When you create your logo, keep in mind that it must be flexible. For example, you need to use it as much on the web as on a document. It is even one of the most important criteria to create a good logo, and it is all the more essential today given the number of different mediums. For example, your logo must appear on your invoices.
But how do you create a flexible logo? Our first piece of advice is to create something relatively simple. Avoid adding too many small details that could make the logo look blurry. If you look at the redesigns in recent years of logos of large companies, you will notice that often their logos have been simplified. As well, avoid using too many different colors or fonts.
Momenteo: a billing tool for entrepreneurs
How do you create professional-looking invoices so that you can highlight your logo? Let us introduce you to Momenteo, one of our partners. Momenteo is a billing software designed specifically for freelancers, self-employed workers, and entrepreneurs. To use this tool, you only have to answer one question: what did I do today? Then, enter your work, work hours, expenses, and travel in the calendar. It only takes a few seconds to create and send an invoice.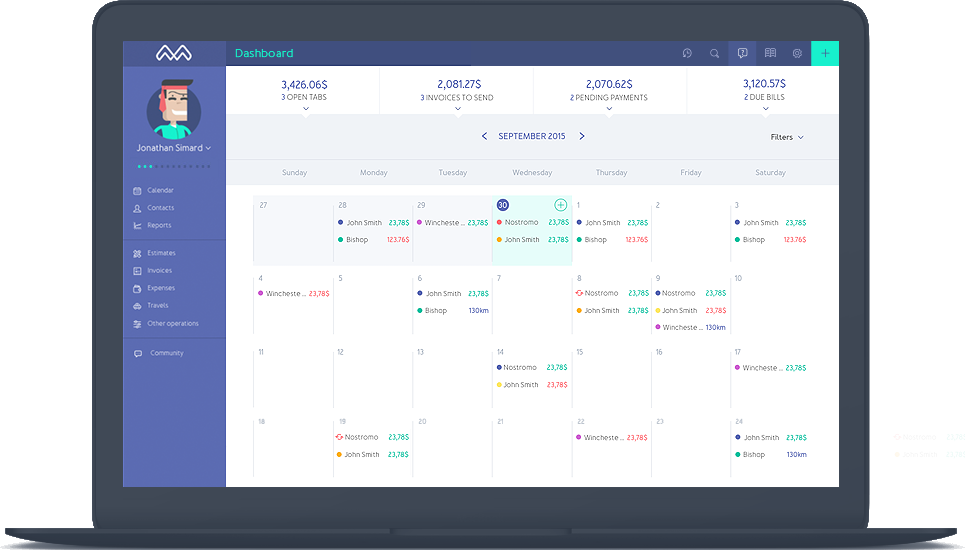 And the nice thing about Momenteo is that you can try it for free. You can send invoices to two customers without paying anything! There are also no commissions on your payments. The great thing is that you will be able to generate nice looking invoices that will showcase your logo! Check it out!
Add your logo to Momenteo
As soon as your registration on Momenteo is complete, we recommend you add your logo. The reason is simple, Momenteo's system will then use the colors from your logo to create invoices that go with your brand image.
To do this, click on the avatar located at the top left of the calendar then add your logo. Next, in step 2 of creating an invoice (design), you can choose whether you prefer your logo to appear on the left or right, along with its dimensions. This is also the step where you can customize the colors and fonts used on your invoices. Different invoice templates are also available.
New: FreeLogoDesign's Invoice Templates add-on
Are you in love with your logo created with our logo maker? It is now possible to get invoice templates with your logo with this new add-on. Available with our premium packages, it is a great addition to your branding.
In conclusion, if you have to create invoices, remember to proudly add your logo to them. It's not just a matter of aesthetics, it will add credibility to your company and strengthen your brand image. If you need a hand in creating invoices, feel free to take a look at our partner Momenteo. This online tool allows you to easily create and send invoices to your customers. It can also help you track and receive them. Happy billing!