Think about it. A customer walking around in a branded hat tells people that this person is not only a customer, but a loyal and proud one. You've got brand awareness and social proof all rolled into one, and if they purchased the branded hat, they've even paid for the privilege of marketing on your behalf.
So, how do you ensure that your merch strategy gives you the most bang for your buck? Let's take a closer look.
Start with a Clear and Consistent CI
Your corporate identity (CI) has to be your starting point. A CI comprises your logo, fonts, and colors—everything visual about your brand identity and how those visuals are incorporated. If you don't have this clearly defined for your brand, you'll find it impossible to do any consistent marketing. Never mind brand your merchandise effectively.
The best way to establish a CI is to get a designer to assemble a document that covers the exact color codes and fonts you use. This document can then be handed over to whoever designs or prints your merch, and you can rest assured that the final product matches your branding perfectly.
Define Your Tone
Next, you need to understand the tone of your brand. The tone is how you speak in your marketing. For example, the tone of an accounting firm will be completely different to a fast-fashion clothing retailer. The slang, jargon and just general way you talk will be different for each.
Tone is important for your merchandise for several reasons. You might want to have a slogan or text displayed, and that will be informed by your tone. The tone you want to set will also impact the type of merchandise that you choose to sell or give away.
Understand the Types of Merch Available
Speaking of the type of merchandise that you choose to use, there are four types you can choose from.
The first one is convenience. This includes items that are required, such as branded tissue packs or bottles of water. There is little decision-making required to make these purchases.
The next group is shopping. These are high-expense items, and customers generally want more information about them before buying—branded tech falls into this category.
The third type is impulse. This can include a wide range of items, such as chocolates, T–shirts, hats, or accessories. They're the items that aren't on a person's shopping list, but they decide on a whim to purchase.
Finally, there's specialty merch. This refers to your high-end product type that people will travel great distances and pay large sums of money. It's anything from designer handbags to limited-edition cars.
Match Your Merch to Your Target Audience
It's so important to match your merchandise to your target audience. When choosing your marketing merchandise, determine what suits your audience and how much mileage they'll get from it. There's no point in getting baseball caps branded if your audience doesn't comprise the type of people who would wear them. Again, it comes down to understanding your brand and who your customers are.
That same accounting firm will do well with branded pens and notebooks. On the other hand, the fashion retailer should have great success with stickers, hoodies, and funky smartphone accessories.
Use High-Quality Merch
Whether you're giving it away for free or asking people to purchase it, your merch must be of decent quality. If it falls apart or stops working after a short period, you're only creating a poor brand experience for your customers.
The quality of your merchandise reflects the quality of your brand. Don't opt for cheap merch just to get it out there or make a few extra sales. A leaky travel mug or a hoodie with a dye that runs can ruin your reputation far faster than you may imagine, as people will see it as part of your brand identity.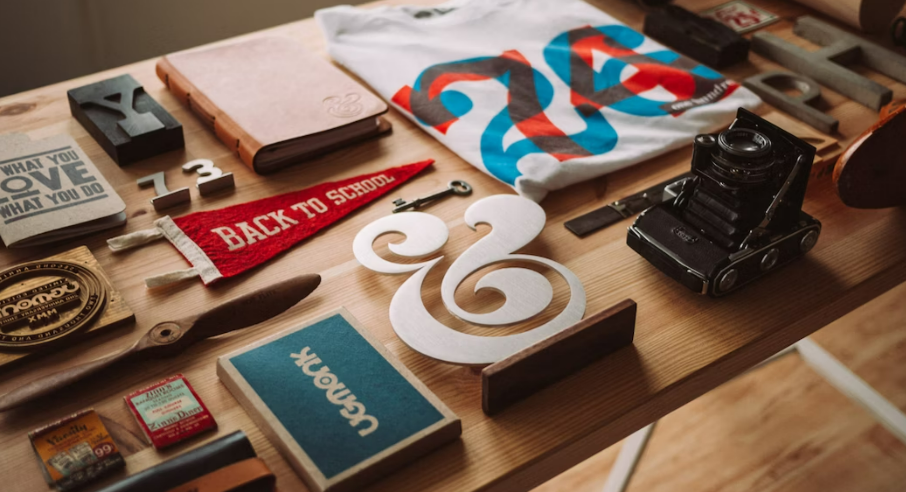 Think About the Packaging and Presentation of the Merch
Another important point about quality is how you package your merchandise. In an eco-conscious world, you don't want to offer your customers a product wrapped in non-recyclable plastic.
Additionally, you want the quality of the packaging to match the quality of the item people buy or receive. Your customer's brand experience includes receiving their merch and unwrapping it—just think about how popular unboxing content is on social media.
Don't Limit Your Reach
Remember the point about matching your merch to your target audience? Well, just be sure that you don't limit yourself too much at that stage. If you go too niche or specialized with your merch, you may struggle to reach a wider audience and bring new customers into the fold.
Start with blank T-shirts to which you add your logo and branding, rather than a fitted, stylized top that only a small portion of your target audience will buy or wear. Even businesses with a niche target audience are better off spreading their net wide to ensure they have the most significant reach.
Start with a Core Offering
Buying and branding stock requires an outlay of funds that you need to budget for. And, you must have some merchandise in stock to make the most of this marketing strategy. It's best to start with a core group of products first and determine how popular they are with your audience.
If they work out, add to them, but try not to change up what you offer too much—consistency will pay off.
Using Merch as Part of Your Marketing Strategy is a Winner
Branded merch is a great option to include in your marketing strategy. It can help you to reach a much wider audience because everyone who uses your merchandise or wears it becomes a brand ambassador for your business.
Your merch will also serve to remind people of your business every time they wear the branded top or use that branded smartphone charger. This keeps your company top of mind for new purchases, making it an all-round winner.