FreeLogoDesign continues to help you in the development of your brand. Today, we offer the Email Signature tool.
What is an email signature and what should it contain?
An email signature is simply a signature that you can customize in the settings of your email account. Once created, it can be generated automatically each time you write an email.
But what should your customers see in this signature? It's very simple. Just like your business card, you should have your contact information. That could be your name, company name, position, phone, website, address, social networks, as well as your logo!
Why do you need an email signature?
There are different reasons why you should have a custom email signature. Here are some of them.
First, from a design aspect, emails contain text that is not the most aesthetically pleasing. So, why not add a little touch of color? In addition, your signature and contact information will automatically be seen at the bottom of your email with just one click. With each email, you will no longer need to write out all your contact information nor add your logo.
You will also have increased credibility with your customers, allowing a quick identification of your brand with your logo being a part of your email signature. Speaking of having your logo in your email signature, this creates an even stronger brand image. Your logo must be seen by customers everywhere so that is stays in their memory. What better way than in an email signature.
Finally, as your company grows and you hire more people, you will probably need to standardize your brand. Each employee will have their personalized signature with the same template and logo so that your partners and customers easily recognize you.
Now that you know why you need an email signature, let us convince you to create it with our new FreeLogoDesign add-on.
Why you should choose FreeLogoDesign to create your email signature ?
If you've ever created a logo with FreeLogoDesign, you know the first reason – creating your email signature is easy. It only takes a few clicks. In addition, you will not need to import your previously created logo, it will already be in your dashboard. You will just have to select the add-on.
You'll also be able to add all the necessary contact information we talked about earlier, including badges for your social media accounts. All you have to do is add the different network URLs.
Finally, you will have the ability to modify your signature as many times as you want – with the exception of the logo, of course. With this, you will be able to create uniformity in your brand and create signatures for all your employees.


How to create an email signature with FreeLogoDesign?
Just like the business card add-on, it only takes 5 minutes to create a signature for your email. Once you have selected a logo, you will be able to modify your email signature.
The first step will be to enter your information such as your name, position, address, website, phone number, etc.
The second step is to insert your social media URLs. If you like, you can add the following links: Instagram, Facebook, LinkedIn, Twitter and YouTube. Of course, if you have a Facebook page, but you don't post on it, there's no need to add it. To remove a social media icon, you just have to remove the forward slash character '/'.

The third step is that of the template. Choose the one that suits you best. Is the logo going to be on the left or on the right? Above or below? Do the same for your information and icons!
The second to last step is about style. You can change the color of your text and icons. As well, the small information and network icons can be slightly modified.
Finally, the last step, adding your email signature. Unlike other add-ons, you don't need to download a file to your computer. Just go to the settings of your email and you will see 'signature' where you can input text. You will then have two options to set up your signature:
The 'text copy': in other words, the equivalent of a copying and pasting an image or text. You just have to paste (CTRL-V) your signature into the area for text input.
The 'code copy': this way is a little more complicated as it requires you to manage HTML editing. In your signature settings of your email, right-click in the area for text input, then click 'inspect'. After that, expand the 'div' that highlights the area in blue you want to edit. Right click on '<br>' and click on 'edit HTML'. After the <br>, add the code copied from FreeLogoDesign then press 'enter'. The signature should appear.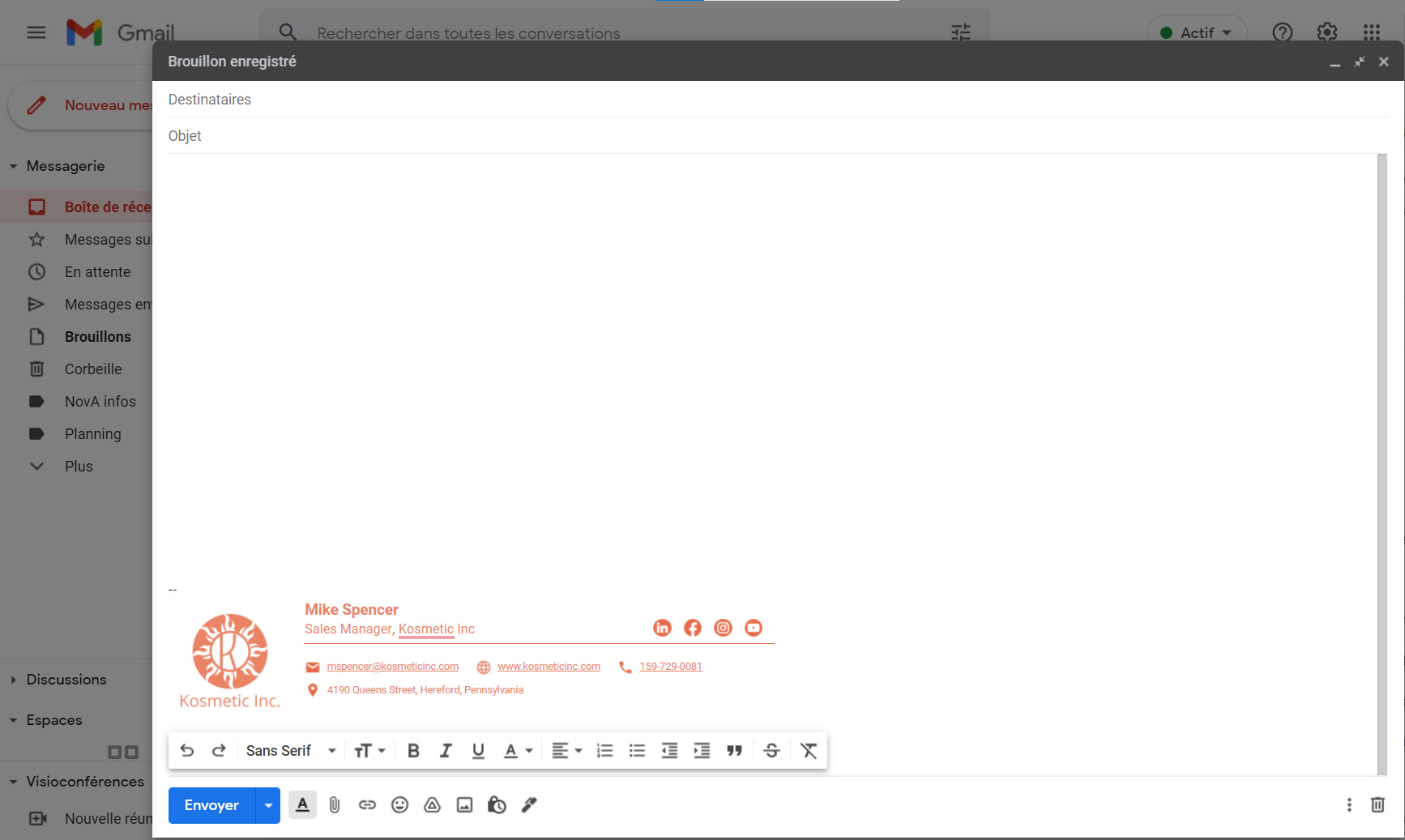 And that's it, when you write an email, you just have to select 'insert a signature'.
Now you know why you need an email signature, but also how to create it, all in less than 3 minutes! We also have an article on How to add a logo to your email signature on our blog if necessary. Enjoy creating!