Why do you need a business card?
Just because we are in the digital age doesn't mean you shouldn't have a business card. In fact, while your sent email gets lost in a hundred of other emails, a business card given by hand will more easily be found. During an in-person event, whether it is a private meeting or a trade show, it is important to offer this card, because all your contact information is on it. A business card can also help your credibility. Even if the production of a business card is not the most expensive part of your business creation, this "small" detail will help you appear more credible during your search for clients or investors.
What should a business card have?
In terms of its content, you will have to decide what information you want on it. Your business card should be concise and simple to read. We should find at least your name (and that of the company), an email address and your website. You must have at least 3 pieces of information and a maximum of 6 pieces of information so that it is still readable.
In addition, your colors and fonts should reflect your brand image. If your logo is written with a certain font, do not change it to another. It is the same for color. Do not use orange if you use blue as your main color.
Regarding your logo, if your business card already has a lot of information and you absolutely must put it all on there, a logo can seem quite invasive. If you think your logo can be added directly on the same side of your contact information, we encourage you to do that. On the other hand, if it feels right and you're not sure of the final look, we suggest you place it on the other side of the business card so as not to weigh down the other side.
Why choose FreeLogoDesign to create your business card?
As mentioned, FreeLogoDesign is getting into business card creation, but why use this add-on?
First, because it is a continuation of our logo maker. Meaning, the business card editor is just as simple as the one used when creating your logo.
Also, since your logo is already in the system, you don't need to import any external elements or resize your image. Everything is ready.
Just like creating your logo, you'll have access to different templates, allowing you to choose the one that best fits your brand image.
Finally, don't panic if you change your phone number or address. Your business card can be edited as many times as you want. As well, the color, name and size of your logo can also be modified.
How do I create a business card with FreeLogoDesign?
As previously mentioned, it is very easy to create a business card with FreeLogoDesign.
When your company logo is created, simply click on Download. From there, you'll have two choices:
The High-Resolution plan gives you access to options, such as your black and white logo or your logo in the format you need for social networks. And, in this case, you will be able to add the Business Cards option in addition to buying your logo in high-resolution.
The Premium plan is where you will have all our options.
Once your choice is made and you paid, you will arrive directly on the publisher page for business cards.
At that time, you will simply need to fill in your information like your name, email address, phone number, etc. Check that there are no spelling mistakes!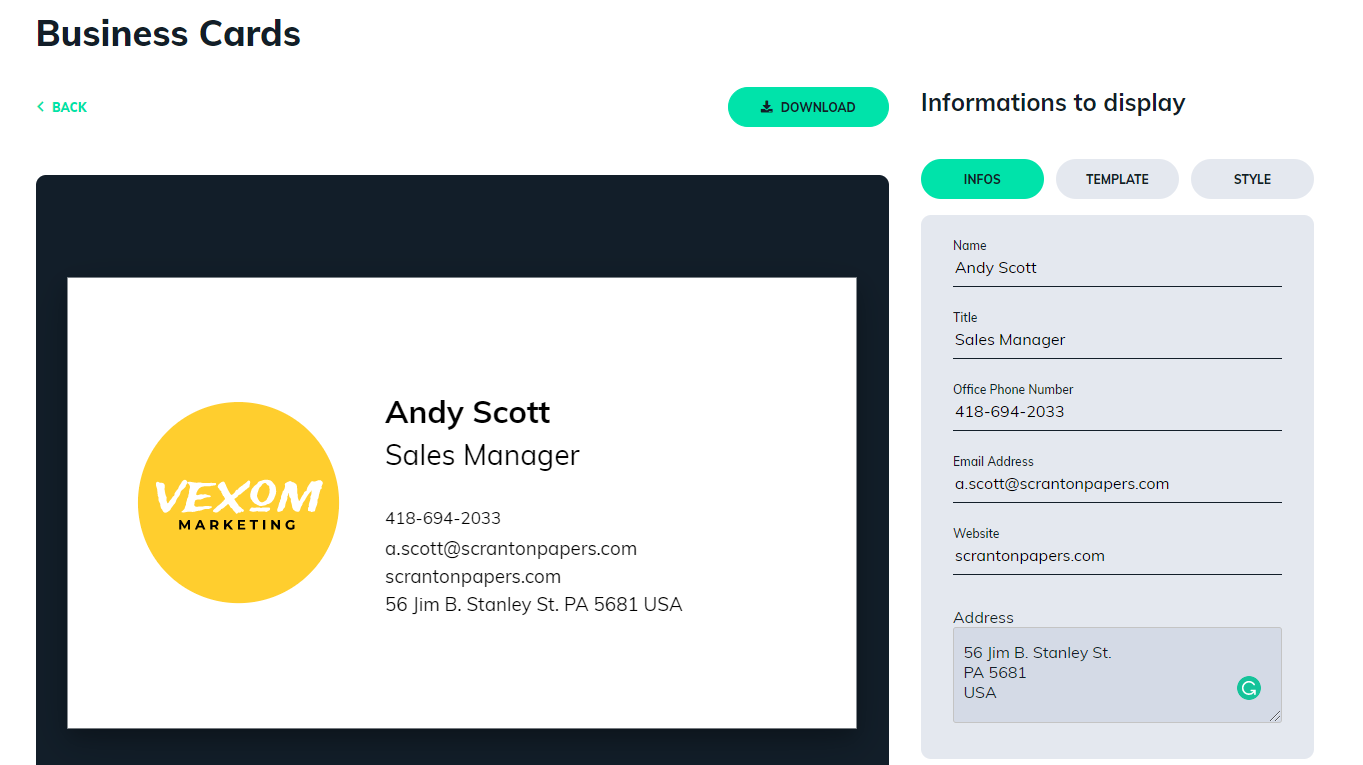 Then in the Model tab, choose the design that best represents you: classic rectangular, with or without the logo, vertical or horizontal direction, square or rectangular in shape.
Finally, in the Style tab you can choose the color of your text and background. We would like to remind you that these colors must match your brand image, but also not be excessive so that the business card remains legible. You will also have the option of changing the format of your card unless you have chosen a "square" card model. Otherwise, you can choose between a North American format or a European format. A little side note. We also offer a two-sided business card with the logo in the middle on the reverse side.
Now, all that's left to do is press Download and send the document in PDF format to a printer.
Now you know why you need a business card and also how to create it, all in less than 5 minutes! You can also find an article on mistakes to avoid when creating your business card on our blog. Happy creating!